Event: IPMS Dundee Model Show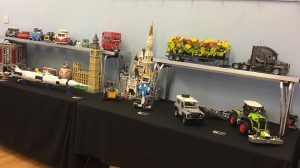 Small display by some members of Tartan LUG at the IPMS Dundee Model Show Saturday 28th July.

In attendance were David Mackenzie, Rick Carriganand Nick Spence.

We had been initially allocated three display tables although due to the event having to be moved to a new location at short notice we ended up with two tables. Two benches increased our display area.

Thanks go to the IPMS Dundee Model Club for allowing us to exhibit at their event also to Elizabeth Spence, member of the Cupar Floral Art Club, for providing the floral display on the Technic MAC Anthem trailer.